Welcome
Learning is the only thing the mind never exhausts, never fears, and never regrets.
-- Leonardo DaVinci
An investment in knowledge pays the best interest.
-- Benjamin Franklin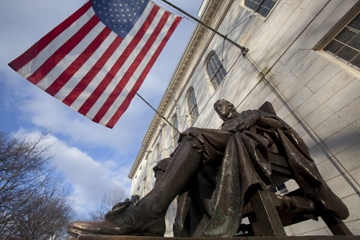 Greetings Friends & Fellow Crimsonites,
With the crisp autumnal equinox in our midst, there is no better time than now to connect with the club. Our goal is to help keep you connected with relevant, pleasurable events and speakers. Stay tuned for our November mixer for the Harvard/Yale game, and please do not hesitate to share your insight.

View our club photos here: THE CLUB PHOTOS
We serve our community! Charities the club has supported this year: Kids Kicking Cancer; Junior Leadership Macomb; and a College Scholarship.

A hearty and appreciative thank you to our dedicated Patrons and Sponsors:

Victor Agruso
John L. Gierak - Clark Hill PC
Dr. Steven Kalkanis
Judge Lisa Martin
OE Pushrods, Inc.
Anita Plous
Mark Schumacher
Lily Epstein Stotland
Gregory Theokas
Velix, Inc.
Vesco Oil Corporation
Adam Wienner - Bosch